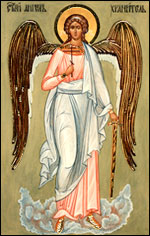 He
hath given his Angels charge over thee. O wondrous condescension,O truly great and loving affection. For who is he that hath given charge? And to whom hath the charge been given? And over whom? Let us zealously consider, my brethren, and carefully commit to our memory this sublime commandment. Who is he that hath given charge? Whose are the Angels? Whose commandments do they obey? To whose will do they submit? The words are: He shall give his Angels charge over thee, to keep thee in all thy ways. Nor is that all that they do, for they even bear thee in their hands.
The divine Majesty, therefore, has given his Angels, his own Angels, those celestial spirits, indeed, so blessed that they dwell in his near presence, and are, in fact, of the household of God; he has given them charge over thee. Who art thou? What is man, that thou art mindful of him, or the son of man, that thou visitest him? As though man were not rottenness, and the son of man a worm! But what charge dost thou think he hath given concerning thee? To keep thee.
WITH what great reverence should this saying inspire thee, with what love inflame thee, what confidence should it instill in thee Reverence for their presence, love for their kindness, confidence in. their guardianship. Walk heedfully, remembering that the Angels go with thee, as they have been told to do, in all thy ways. In public and private show respect for thine Angel. Do not dare to do in his presence what thou fearest to do in mine. But perhaps thou doubtest his presence, because thou canst not see him? What if thou shouldst hear him, or touch him, or smell him? Understand that it is not only by sight that the presence of things is proved.
THEREFORE, my brethren, let us love his Angels, in him, with tender affection, since we are to be joint heirs with them, although we are at present under tutors and governors until the time appointed by the Father. What have we to fear with such guardians? They who keep us in all our ways can neither be defeated nor led astray, much less can they lead us astray. They are faithful, they are wise, they are powerful. What can dismay us? Only let us follow them, let us cleave to them, and we shall abide under the shadow of the Almighty. As often as thou perceivest heavy temptation pressing upon thee, and violent distress threatening thee, call upon thy guardian, thy guide, thy refuge in time of trouble; cry out to him, and say, Lord, save us, we perish.
Monastic Matins Second Nocturn S. Bernard, Abbot Sermon 12 on Psalm 90